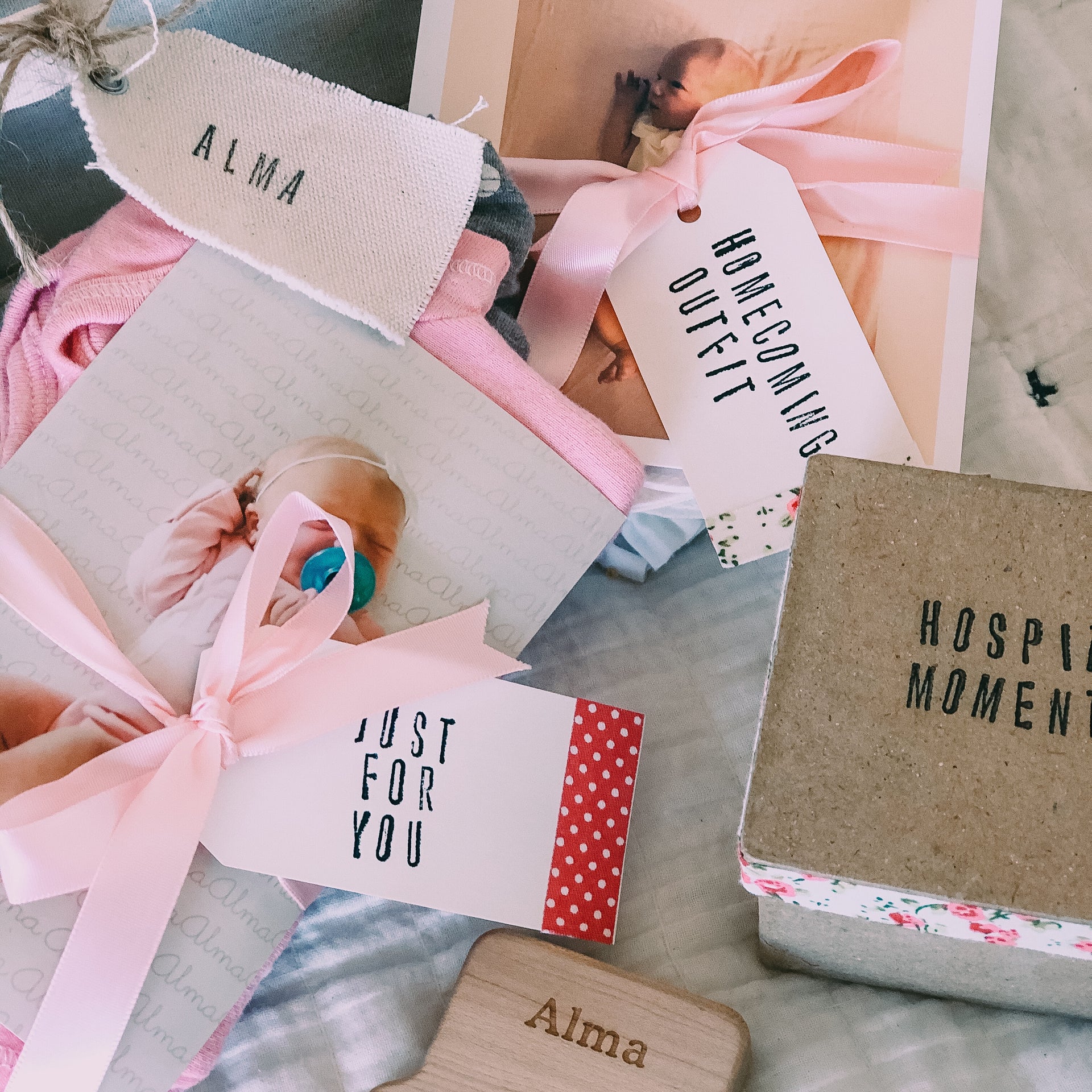 Creating a Keepsake Box: Saving Mementos From Babyhood
When I was in the midst of having babies, my basement looked like a really fantastic garage sale. I had bins upon bins of clothes my kids had outgrown, I had infant carriers, bouncy seats, a portable crib, tubs of toys, you name it. While it was great to have that stockpile of supplies when I needed it, it quickly became overwhelming when it no longer served us. But getting rid of pieces of your children's babyhood can be an emotionally challenging task. We often attach memories and sentiments to physical items, and parting with them can feel daunting. 
One day, after I had my fourth and final baby, I was visiting a good friend's house. I love going to her house because I love everything about her style and the way she is always moving things around, maximizing her small home for her large family....much like me. On this particular day, we were in her girls' shared room, ogling over her latest closet cleanout (I know, total mom stuff, right?!) She had hung their clothes just so, put baskets at reachable levels for little hands, and put special things up top. Then she pulled down a small, ordinary box, but what was inside was about to blow my mind. Inside was all the most special keepsakes she wanted to save for her youngest daughter. Each item was carefully chosen, folded, wrapped with string and labeled why it had meaning. In one little box. That was it. She let go of the rest. Let me say that again. She LET GO of the rest... And it was perfect. No grown child wants their old bouncy seat passed down. They want their going home outfit, first pair of shoes, a stack of cards from special people...
This lit a fire under me and gave me "permission" to let go of that stockpile I had down in my basement. I immediately sat down and made a list of the items that we're most important to me. Your list may look entirely different, and that's ok!
Here's what my list included:
-Birth announcement outfit 
-Homecoming outfit
-Newborn diaper (so tiny!)
-Hospital mementos (hat, ID bracelet, basinet banner, string that measured how big around my belly was before I delivered)
-Cards welcoming baby
-Baptism dress and candle
-Favorite or personalized baby toy
-Special blanket
-First pair of shoes and/or shoes they learned to walk in
-Tiny hair barrettes and headbands 
-First birthday outfit, highchair banner, cake/cupcake topper
 Next, I pulled up all those bins from the basement, and started going through them. I made a pile for each of my four kids, only setting aside those most special items from my list. I tried really hard to keep it the same across the board. I wanted each of my kids to have similar items saved and about the same amount of stuff so that it felt fair to each of them. Even if I loved an item but it wasn't on my list, or I didn't have one for each kid, I let it go. I shared some of those things with friends who I knew could use it, and I donated the rest. I know it sounds painful to do, but I promise it wasn't. I was fully in a place where I knew our family was complete, and I was ready to reclaim the space this stuff was taking up. 
 Then came my favorite part! I went to the craft store and carefully chose special ribbons and tags, and little boxes to corral little things. I folded each item carefully, stamped a tag for it, and I even went as far as printing pictures of my babies wearing the items. I tied it all together with ribbon and placed it in the box. Four perfectly curated boxes of love and mementos for the four most important people in my life. And a whole lot of empty space in my basement!
 My kids have asked to look though their "Memory Boxes" from time to time, and each time we pull them out, they just make me so happy. They instantly take me back to those tender days of caring for babies. I smile at the photos, and share the stories with them about those special times. 
It's been four years since I made these boxes, and I can promise you I don't miss any of the stuff I let go. I honestly don't even remember what much of it was. The things I do think about are kept safely within our keepsake boxes, to be cherished always!
xo,
Amy