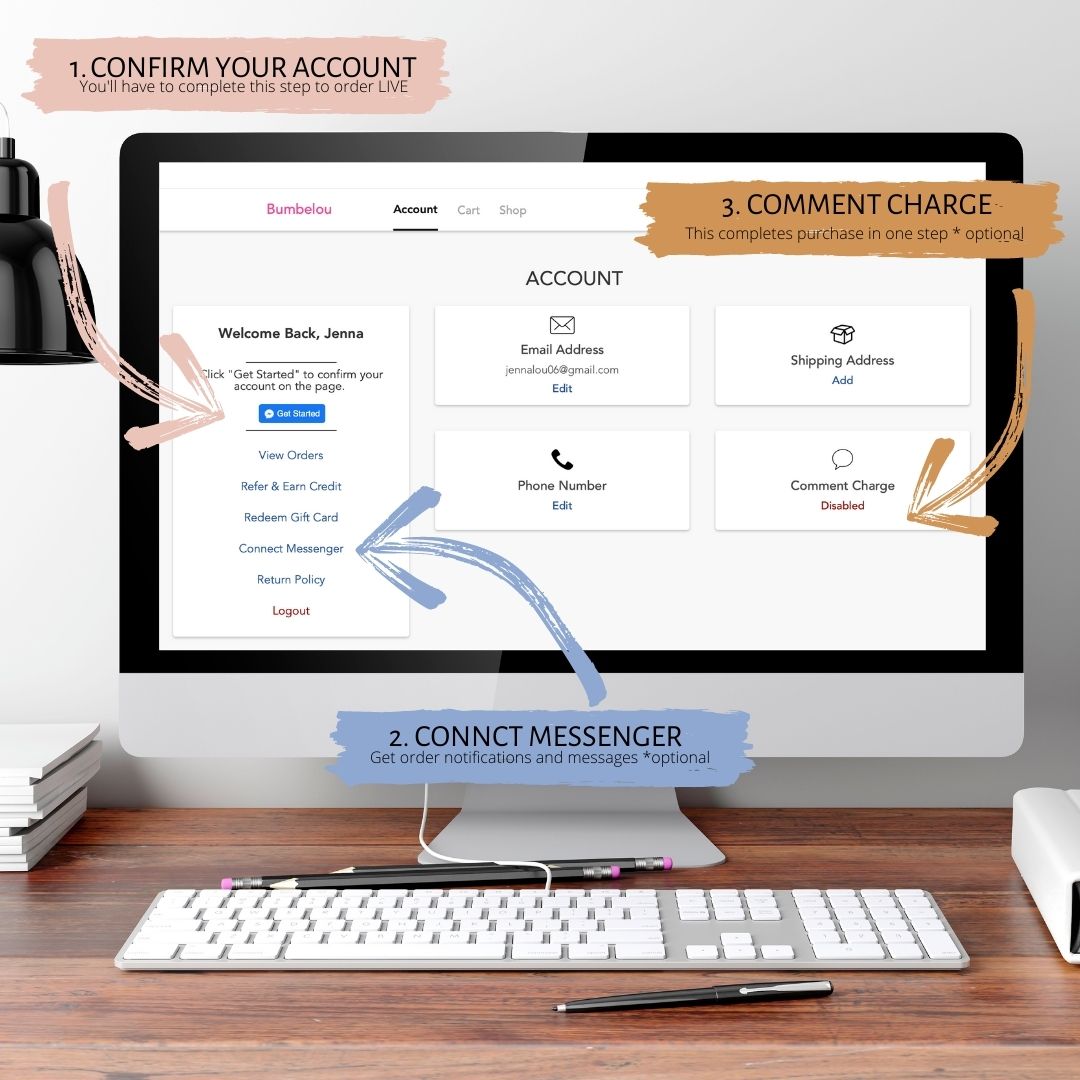 Live Shopping on Facebook with Bumbelou
Joining us LIVE on Tuesdays at 7pm


We are SO excited to be rolling out Comment Sold in our weekly LIVE videos!!
We have so much fun showing our latest arrivals and sales!  
We put together a guide to ALL-THINGS you need to know about how shopping live with us and Comment Sold to works. I promise a quick read through AND even quicker registration will set you up for success to grab deals and new releases the fastest. Never attended a Live shopping event with us? You can check out our
past events under the Live tab
on our Facebook page.
Let's get started! 


To Join
- Be sure to confirm your account. Just click the blue button on your profile page after signing in. It's super quick we promise!
- Connect Messenger if you'd like updates about your cart and messages.
- Enable Comment Charge if you'd like one step payment (that means you'll hold your items and won't need to ever leave Facebook to purchase).
To Buy
- Use the keyword SOLD followed the item number followed by size. Please type the size exactly as listed. If you mess up just try again in a completely new comment. Your comment MUST be made in this format to purchase the items and size or color variant listed exactly as it appears in post. An example would be: SOLD 143 12-18m
- Multiple items of the same kind need to each be their own comment. 1 comment = 1 item.
- All items will be combined into one cart. Once the sale ends the first to checkout will get the item unless you've enabled Comment Charge. Carts expire completely after 12 hours.
- Waitlist - you'll be notified if we restock something so don't be shy about commenting.
To Pay
- If you are Comment Charge Enabled your payment will go through when we finish the live.
- Orders over $75 ship for free. All others ship for $5.99
- FREE Local Pickup is an option. Please leave a note for which store location you'd like to pick up from.
We are so glad you're joining us for a live event! Please always feel free to message us or just join right in with the conversation LIVE. See you soon!