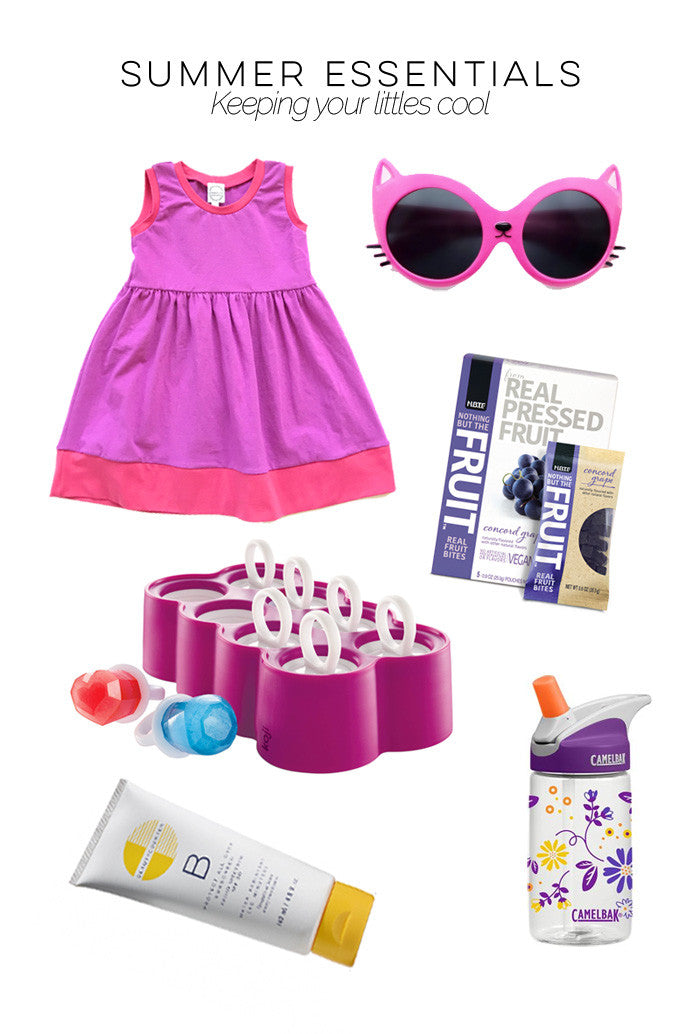 Summer Essentials to Keep Your Littles Cool
I always feel like summer kind of sneaks up on me. Maybe it's because we live in Minnesota where the weather can be totally unpredictable....and sometimes quite cool right up to and through Memorial Day Weekend. But all of a sudden, the day arrives when it is hot, humid, and my 3 year old is begging to go to the pool: it's officially summer.
We've spent a lot of time at the pool this year since my daughter has finally decided that a dip in the water on a hot day is fun, not torture. She's been making lots of new friends, one of whom looked at me and then asked my daughter if I was her grandma (seriously girl? I literally just got my hair colored, had it in a ponytail, and was wearing my two piece swimsuit…I'm not sure how I was giving off a grandma vibe but dang, my poor daughter was super confused looking everywhere for her REAL grandma).
ANYWAY, some of our pool staples have been sunscreen + sunnies. We got some sweet specs from Subsidy Shades last year and get so many compliments on them! Who says sunglasses have to be plain jane?!
When we're not swimming we're snacking and staying fueled up with our new fave snack: Nothin But The Fruit. These yummy fruit snacks are perfectly sized for sticking into a diaper bag, purse or stroller without much thought. Toss your favorite reusable water bottle into the mix and snack time = done. On the days we feel a little bit more adventurous for snack time we use our freezer molds and whip up some super easy popsicles. We usually blend up whatever fruit or berries we have on hand, pour em in the mold, and pop em into the freezer and in just a couple hours we have super adorable and delicious heart and gem shaped frozen snacks we can wear like rings on our fingers (and bonus points for them being a perfect way to sneak some more nutrition into snack time. MOM WIN!)
Our final summer essential was a recent addition to the Bumbelou line and is exactly what we needed on more than one occasion. The new color-block dresses are designed in rich and perfectly coordinated colors… and an ideal punch of summer color! I grabbed the orchid + magenta colorway for my little and know it will transition perfectly to fall when we throw some tights under and a sweet cardi over. I anticipate this piece being a staple in her wardrobe next season as well.
Our long sunny days have been filled with lots of laughter, the occasional meltdown (by both the children and myself) and sweet memories (Dear Diary, today a girl at the pool thought I was a grandma…) and when I think about it, those are really the summer essentials that matter the most.
XO, A