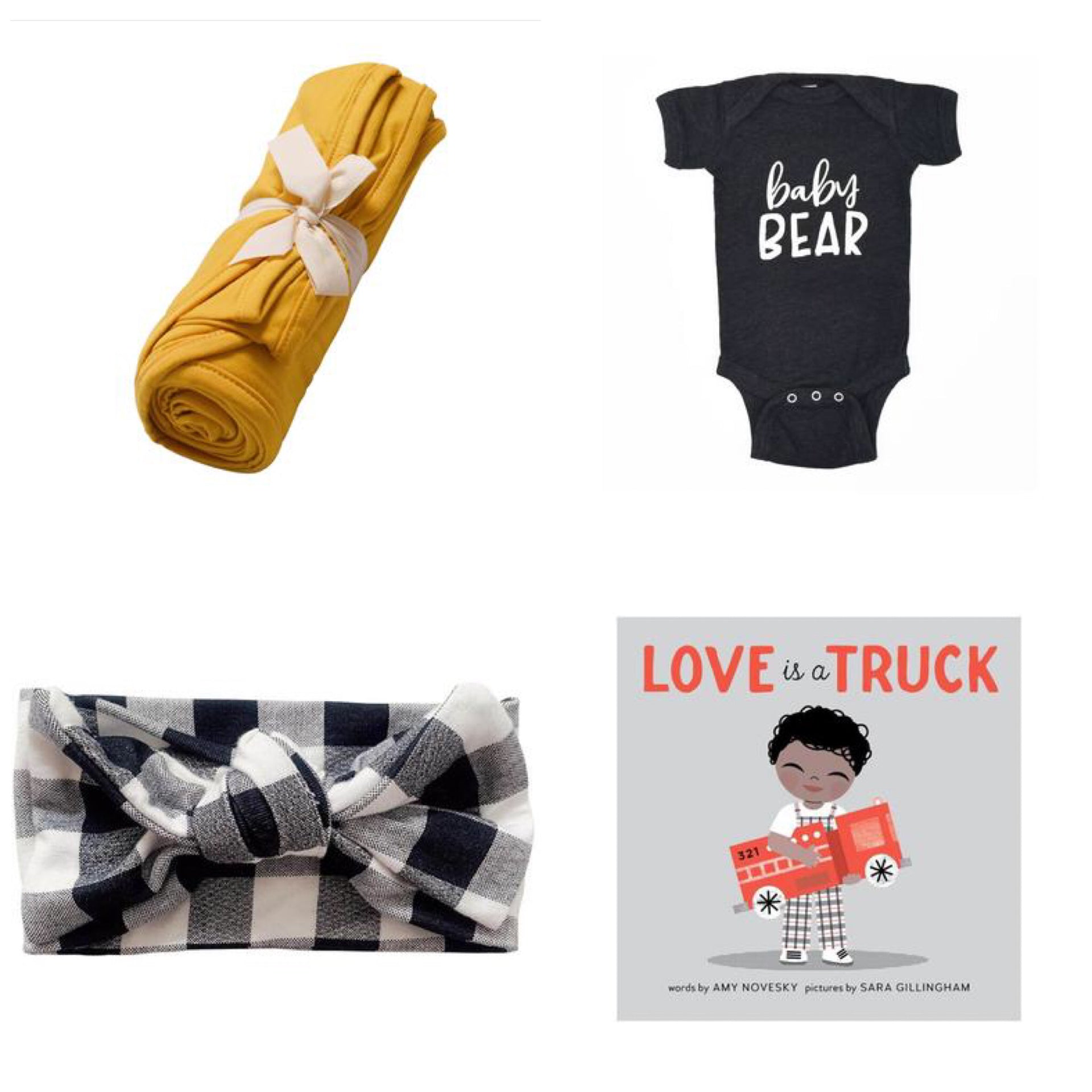 The gift of "B's" for baby
Gift giving is among my most favorites things to do, and I always follow this simple rule when shopping for the littlest of littles: "The B's for babies".
What in the world, right? Its simple!
*blankets
*bodysuits
*books
*bath toys 
*bows and bonnets
Any of these items on their own make a lovely gift, or combine a few "B's" for even more perfection!
 Here are a few of my personal favorites:
When gifting blankets, I like to stay gender neutral, so that this gift can easily be used for another child in the family. I also love ones with simple patterns, because they make fantastic back drops for photos!
Click here for amazing swaddle blankets
Bodysuits are always a sweet gift, and really, who doesn't love a cute outfit for thier baby? This one could be worn by a boy OR girl! When gifting clothing, I like to size up a bit. Babies grow so quickly out of the newborn size, so I typically bypass that size. People seem to have an abundance of clothing, so even going up to a 12 month size is a nice little treat for later down the road!
I LOVE a good book for littles, and at this point I probably have enough to start my own library! Jenna always chooses the most beautiful books for Bumbelou, so you can't go wrong with any of her titles! A book would be darling paired with a cozy blanket, or even some bath toys. Bath + blankets + books =  the perfect bedtime tuck in!
Bumbelou Books
Bath time is always a hit at our house, so I love finding new toys to keep my littles entertained. Bath toys are a gift that keep on giving, because you never outgrow them! (Well...maybe eventually!) You could even pair a bath toy with your favorite bubble bath or body wash!
Bumbelou bath toys
Last, but certainkly not least, are bows and bonnets! My daughter has an abundance of both, and I guess you could say i'm slightly addicted to them! A girl can never have too many bows, and boys can totally rock bonnets, I promise!
And there you have it! My simple rule of gifting the "B's" for babies. You really can't go wrong! I'd love to know that other "B" gifts you can think of!
xo,
Amy