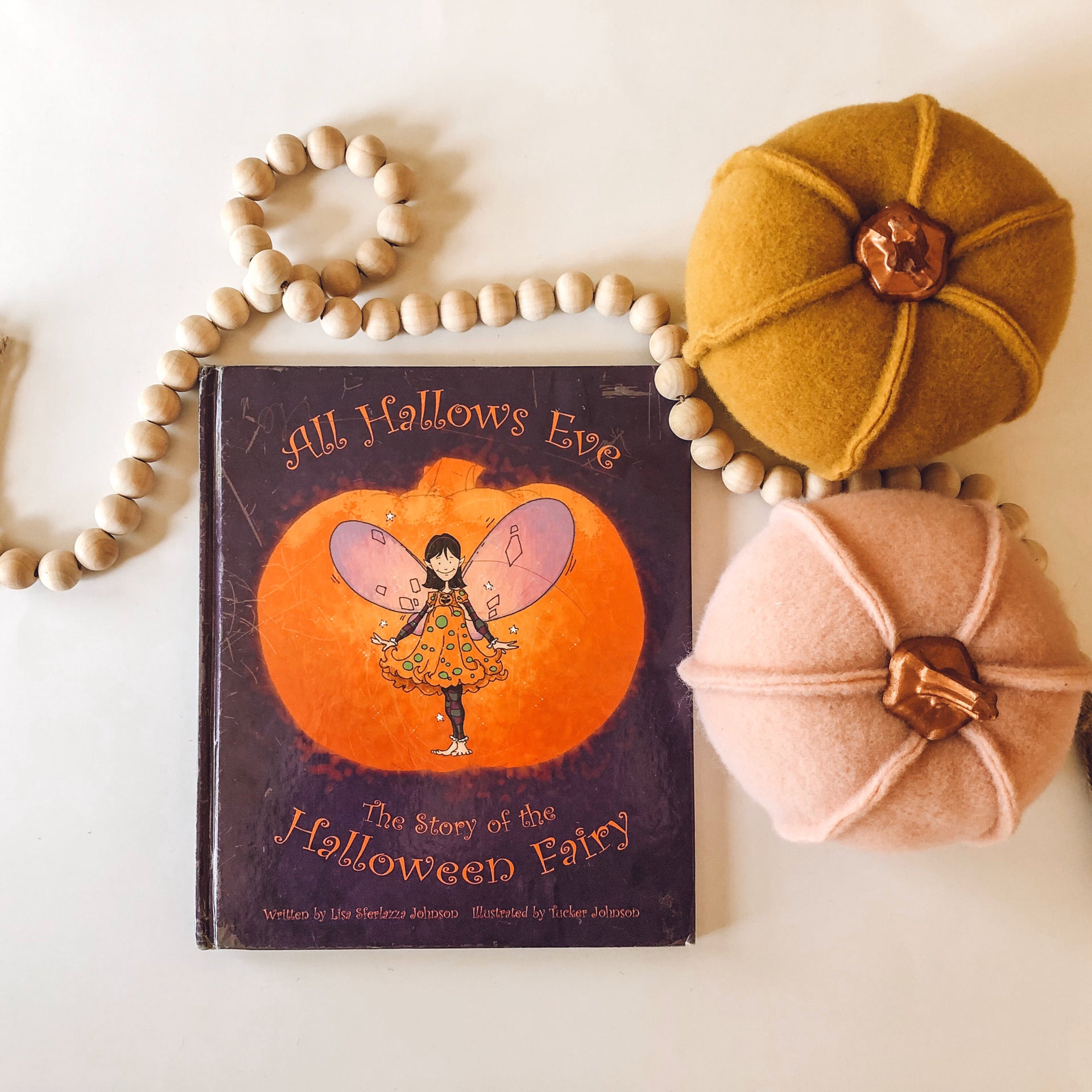 THE SWITCH WITCH: A HALLOWEEN TRADITION
Have you heard of the Switch Witch? I hadn't until recently, but it turns out we've been doing our own version of it for years! If you're new to this idea, basically the Switch Witch is a good witch who visits your home on Halloween night after Trick-or-Treating, and trades your kids their candy for a toy in return. Sounds pretty genius, right?
My family learned of this idea many years ago when we discovered this sweet little book at our library. It has the same idea as the Switch Witch, but this story is about a fairy named Eve, whose most favorite thing ever is candy. And Halloween just so happens to be her birthday! Unfortunately for Eve, her magical powers can only produce toys, not candy. This makes Eve feel sad, until her friends rally together to collect candy from the neighborhood to give to Eve on her birthday. Eve was delighted, and in return, she gave her friends the toys she had made. It's now a fairy tradition, and your kids can join in the fun too by leaving their candy out of Halloween night, and waking to find a toy from Eve in its place!
When my oldest daughter asked if we could try it one year, I was like HECK YES! For us, it is an easy, no fuss way to get that candy out of our house, because once it's in there, it's all my kids seem to think about! We let them eat candy freely the night of Halloween, and they can save a few favorite pieces for the next day. But that's it. Everything else goes in a bag which we place in the hallway outside their bedroom doors for Eve. 
Now, maybe you're thinking another toy is the last thing your child needs. And i'll likely agree with you. But i'd rather my kids have a small, new toy instead of oodles of candy, whose wrappers i'm going to find stashed around my house for weeks (or be tempted to eat it myself!) When Eve visits our house, she brings items in the $1-$10 range. It could be a small Lego set, a new coloring book and crayons, a Barbie, a new game, a book, fluffy socks, or a new hair clip even! My kids are just really excited about the whole idea of a magical fairy, so I think they really would be pleased with anything! Two tips I have for you: 1) Start talking up Eve or the Switch Witch several days to a week or two in advance. Definitely don't spring the idea of giving up ALL their candy on the day of. Build up the magic and anticipation, and watch it unfold. 2) Be prepared! Don't wait until Halloween night to pick up a toy for the switch!
To pull this off, the last step is that you actually need to do something with all that candy! Here's what we have done with ours: stash away candy that will work for decorating gingerbread houses for the holidays, donated to our local food shelter, dropped it off at our dental office, donated it to collection drives for deployed military members (our schools have done this for many years), and sent it to work with Dad to share with his employees. This year my girls' dance studio is collecting it for the Ronald McDonald house. Just be sure to be sneaky about how you get it out of the house so you are not discovered!
If you're interested the book, All Hallows Eve: The Story of the Halloween Fairy, request it from your library, or purchase it here: Amazon, Thrift Books, Barnes and Noble.
Wishing you all a magical Halloween with your little ones!
xo,
Amy