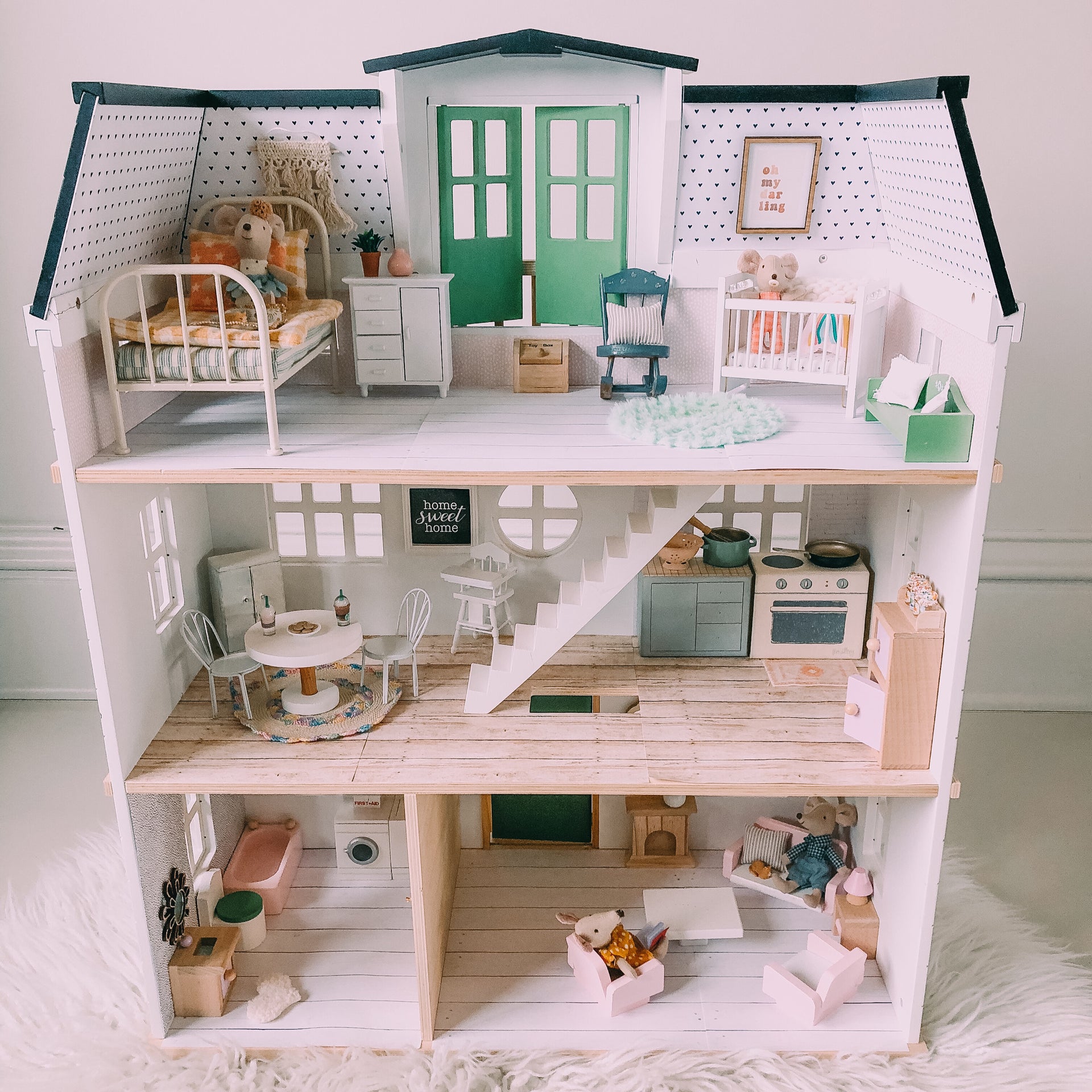 A House for a Mouse
When my kids were really little, my living room looked like a Toys R Us. I was literally surrounded by bright, loud, flashy obnoxious toys. And while yes, my kids enjoyed them for a time (and most of them were gifts or hand me downs), it didn't take me long to realize that most of those toys were single functioning. Like, they did one thing, and my kids tired of them easily. Then they'd move on to the next, and the next, and pretty soon my house was a disaster and I was frustrated every. single. day.
Then I met a friend whose sister owned a small children's boutique, specializing in Montessori style toys. I quickly became intrigued, and that was the start of big changes in our house. I weeded out almost all of those obnoxious toys, and started mindfully purchasing heirloom quality toys instead. Toys that sparked creative and imaginative play. Toys that didn't light up and weren't made of plastic in all different colors. Toys that withstood wear and tear of multiple kids, and toys that I'd want to save for my future grandbabies. 
Several years ago, I searched and searched for a vintage dollhouse to gift to my oldest daughter for Christmas. We painted it, made over the furniture, sewed our own pillows for the beds...I can't even tell you how many hours she has logged playing with it! She's 12 now, and while she no longer plays dolls, she is very much into interior design, decorating, and sewing. She spends hours upon hours wallpapering the rooms, and rummaging through my fabric scraps and craft supplies to furnish the rooms. If I could only save one thing from her childhood, this would be it. This is the toy that I will bring down from the attic one day, and she will feel that sense of nostalgia. This is the toy that she will dust off and place lovingly into the corner of her own daughter's room. This is the toy that when she's an accomplished designer one day (her dream), she'll say it all started with this dollhouse.
Now, my second daughter (5 years old) has shown interest in her sister's dollhouse, and I knew it was time to get her one of her own. For two reasons...1) Big sis isn't jazzed about sharing hers, and 2) I want both of my girls to have such an heirloom piece. This was supposed to be Alma's birthday gift, which isn't until July, but once I started working on it, I knew she'd love it so much and just couldn't wait that long to give it to her! I have spent months carefully sourcing out and saving up for the perfect pieces and accessories. I knew I wanted to base hers around these darling Maileg mice. We have purchased a few over the years and they are just the sweetest little things! They remind me of the Brambley Hedge books, if you're familiar with those. I fully expect (and hope!) that Alma will spend hours upon hours playing with her little mice friends and rearranging their rooms just so. That's the fun of it! And the icing on the cake is that almost daily, I hear one of my girls say to the other "Want to go dollhouse with me?" and they run to their room and bond over these sweet sisterhood moments.
 
Do you have a favorite toy from your childhood? If you could save one toy for each of your children, what would it be?
Sources:
xo,
Amy