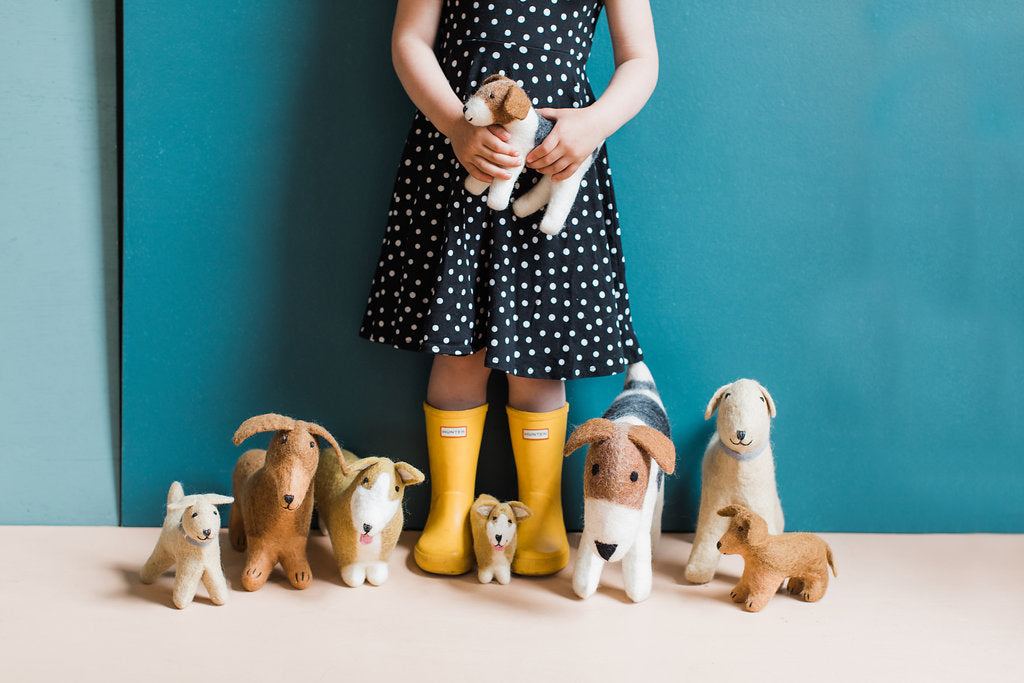 Business Giving Back: MULXIPLY
MULXIPLY : Interrupting poverty by creating opportunity.  Made fairly and fashionably in Nepal. Today's Business Giving Back features Tanja's generous answers to our questions about running a sustainable fair trade business creating beautiful modern pieces. 
Tanja is offering 20% OFF with code: bumbelou20 so you can try out some beautiful handcrafted MULXIPLY goods, valid now through 6/30/18.
And stop over to Instagram to enter for a chance to win $50 in shop credits from both MULXIPLY AND BUMBELOU! winner selected 6/22/18. 
When + how + why did your business begin?
There is a long and short answer to this question. I will give you the medium story. I had traveled with Sudara to do some design-consulting with their sewing projects in India. It was on these trips that I was exposed to the horrors of human trafficking and the pandemic that it is, particularly for women and children in the developing world. Each time I returned home from these trips, I was deeply affected and prompted to figure out a way to use my time and talent to work against modern slavery. As a designer in the fashion world, I was fully aware that my approach would be a creative one, which was exciting and also daunting. I finally left my career in 2010 to do more research on the issue of human trafficking in the South/Southeast Asia to further my understanding of why it was happening and what the best solutions were to preventing it. As a creative, I knew that my work would be focused on understanding job creation programs that were working with at-risk populations primarily in the handicraft sector. My journey is chronicled here: http://beautylostandfound.blogspot.com/2010/08/ -- I met so many incredible people, organizations, survivors, world-changers in those 4 months. I was inspired by the raw materials and the indigenous use of them in each country I visited. It was also extremely empowering to see lives that were changed by dignified employment -- entire families and then villages were transformed as a result of consistent fair wage income. Children could go to school. Literacy rates increased. Women could choose to go to college instead of be married off in their early teen years. Also, in villages that are both educated and economically sufficient, are far less at risk of falling prey to human trafficking schemes. All of this clicked and set the plans in motion for MULXIPLY.
Once I returned to the US, it took about 10 months to really process all I had seen and to formulate an idea that could be sustainably impactful. I landed on this idea of creating modern fair trade accessories, that we would design and then collaborate with indigenous artisan groups using their heritage handicraft skills to make our designs. In doing so we were infusing existing artisan groups with ongoing financial support as well as promoting their skills to the western marketplace. Finally, in 2012, we went back to Nepal with our initial prototypes and solidified our first collaborations. Our first collection was a tiny offering of felt and leather pieces that look nothing like our current collection. 
We've now been in business for 5 years and it's been a continuous learning experience. This year alone we infused nearly $100,000 in to the Nepali economy, one of the poorest countries in the world. We now have six artisan partnerships that we collaborate with, many who are now like family to us. We've added a jewelry team, two sewing teams, a leather groups and two felting teams. 80% of our artisan groups are women. Our collection is an ever-growing array of modern, minimal gifts and accessories which include the hand felted animals seen in these beautiful photos. 
Did you always know that giving back was going to be part of the mission of your business?
Yes! The name MULXIPLY (pronounced "multiply") comes from the idea that it takes two to give -- someone to give and someone to receive. It's also built on the idea that Fashion X Fairness = opportunity. Giving is at the core of our business model -- we would not have a company without believing in the impact of fair wage employment and life-change that partnering with people not factories creates.

Tell us about your company structure. Who works with and/or for you?
We keep our operations lean. There are 3 of us here in Portland, Maine where we run our day-to-day operations. Most of our team is in Nepal. We work closely with them via email or skype to go over new designs and production issues. We spend about a month in Nepal each year to research new ideas and just deepen our understanding of the country and pertinent issues. As mentioned above, we partner with six different teams. Four of them are smaller teams of about 20 people, the other teams are larger and support a village-based model where women are able to complete their work at home. All of our teams are fair wage and are vetted to ensure their artisans are fully invested in both financially and emotionally.

4.

In what ways has giving back impacted you, both personally and as a business owner?
This is really meaningful work, but it's difficult. There have been so many uphill battles and moments when you question everything. But, spending time on the ground in Nepal is ALWAYS a reminder to WHY we do this. Most of the year we are pushing this business forward—figuring out growth patterns, forging relationships, crunching numbers -- all business. And then you get off the plane in Nepal and for an entire month it's all about people and sharing stories over tea. It's a consistent reminder that YES this is exactly where we need to be doing what we need to do. Also, as the west becomes more acutely aware of the perils of fast fashion, we are ever more committed to working with artisans -- people who sew and felt and forge by hand—for them it's not just another throw-away accessory but a piece that they are proud of making.


One of your favorite or most memorable moments/stories related to giving back?
After the massive earthquakes that devastated Nepal in 2015 which killed nearly 10 thousand people and injured thousands more, I was really nervous about going, but we already had our tickets booked so off we went. That trip ended up being one of our best, simply because of the people. Kathmandu was really empty as there were no tourists. There were tent cities everywhere. The ground was still shaking. Monsoon season had begun. It was so hot and dirty and broken. The country was in rough shape and yet for the most part, people were choosing to not give up. In a country where the government offers very little to their citizens, Nepalis are very self-sufficient and very community-sufficient. They help each other. When we arrived we could tell that people in general were really looking to get back to some sort normalcy. They were open to talking about the quakes and how they and their families were affected, but they also wanted to talk about new things and new ideas. It's on that trip that we met our jewelry team and started working on our first collection. This relationship to this day is one of our most treasured aspects of this businesses. 
One other story from that trip took place with the team that does a lot of our sewing and felting. We were chatting with a woman who was very quietly making tiny little felt hearts which would become part of our TicTacToe sets. Through an interpreter, we were able to ask her how she was doing and she replied, "Even though my heart is broken, making these little hearts gives me joy." I have a photo of her on my desk making those hearts and when I'm frustrated, she reminds me to find joy in the little things and rejoice in the powerful healing that creativity brings.

For individuals, families or businesses that are looking to get more involved with volunteering, profit sharing or other giving back type activities, what is some advice you'd share? How does someone get started?
There are opportunities everywhere! You don't have to go to other side of the world, just find something close by. Find something that means something to you or your family and just dive in. My favorite thing is seeing young people catch the "giving" bug. Honestly, giving is rigged that way. It's meant to feel good. I love seeing people get to the end of themselves and see how much more rewarding it is to invest in people. The other thing I find very rewarding is just giving of your skills. You don't have to start a foundation or a non-profit -- just listen to how people in your lives need help and see how you can jump in. MULXIPLY would absolutely not exist without the generous support of friends that pitched in and continue to help out with various aspects of this business. 

What is one common misconception people have about the cause that your business helps support? 
People think that MULXIPLY is a non-profit. We are not. I think because we have a social component to our business model, people somehow assume we are a non-profit. Also, as a business with a fair wage standard, we push hard against the stigma that fair trade has to look a bit "hippie" because it's global. Sure, it can, but part of our mission is to help contemporize age-old handicraft and show its relevance in the fashion world. Our business also gets snubbed because we aren't "Made in the USA". We are firm believers that how you spend your money will directly impact the world we live in as is evidenced by the negative impact of fast fashion. So, whether you are shopping locally or globally, know where your purchases come from and how they are made. It makes a difference. 
If you were starting your business over, is there anything you'd change?
Yes, I would have a business advisor from the get-go. Particularly here in Maine, there are so many resources for small businesses. We stumbled so often in the early years (and still do), but when you are starting a business that you've never done before, it's best to ask as many questions as possible from people that have gone ahead of you. 

What advice do you have for someone contemplating opening or starting their own business?
Get an advisor. Have a solid business plan. Spend money on developing a good brand. People are visual, so make sure your visuals are compelling. Make sure your product is both relevant and accessible. Ask for help. Ask for help again. It's going to be hard. Don't give up. Disconnect deliberately. And get good sleep!
Do you have a personal mantra/quote/affirmation/motto that you use to help guide you in your daily life and decision making?
The first thing I see hanging on my wall when I open my bedroom door in the AM is a banner that says, "BE BRAVE". The other thing is PERSIST. (I even designed a jewelry collection after it). And always say thank you. It helps keeps this perspective that we are all somehow giving to each other to keep the world going. Gratefulness is always in style.
What is one of the best or most beneficial habits or practices you have as a business owner?
 I make physical lists on paper and cross things off. I know there are a million apps out there to digitize this task, but there is something very rewarding about crossing a completed task off a list. I also try to balance my lists with small tasks and big tasks so that I don't get discouraged with my progress. The other thing that's really important for me personally is to carve out time that's quiet and that I am alone in the studio. It's so important for my brain to have that time to think through things creatively. It's also good to be intentional about getting up off your duff to take a breather and do things completely unrelated to your business. 

Thank you Tanja for sharing today! Your heart to be a positive light in the world is so evident in your deep research and care put into developing MULXIPLY. You can read more from our Business Giving Back series here as well as the story of why Bumbelou was started with a mission of profit sharing to help children. 
Tanja is offering 20% OFF with code: bumbelou20 so you can try out some beautiful handcrafted MULXIPLY goods, valid now through 6/30/18.
And stop over to Instagram to enter for a chance to win $50 in shop credits from both MULXIPLY AND BUMBELOU! winner selected 6/22/18. 
Visit MULXIPLY online:
Photos featuring MULXIPLY felted creatures + Bumbelou wardrobe taken by Greta Tucker.