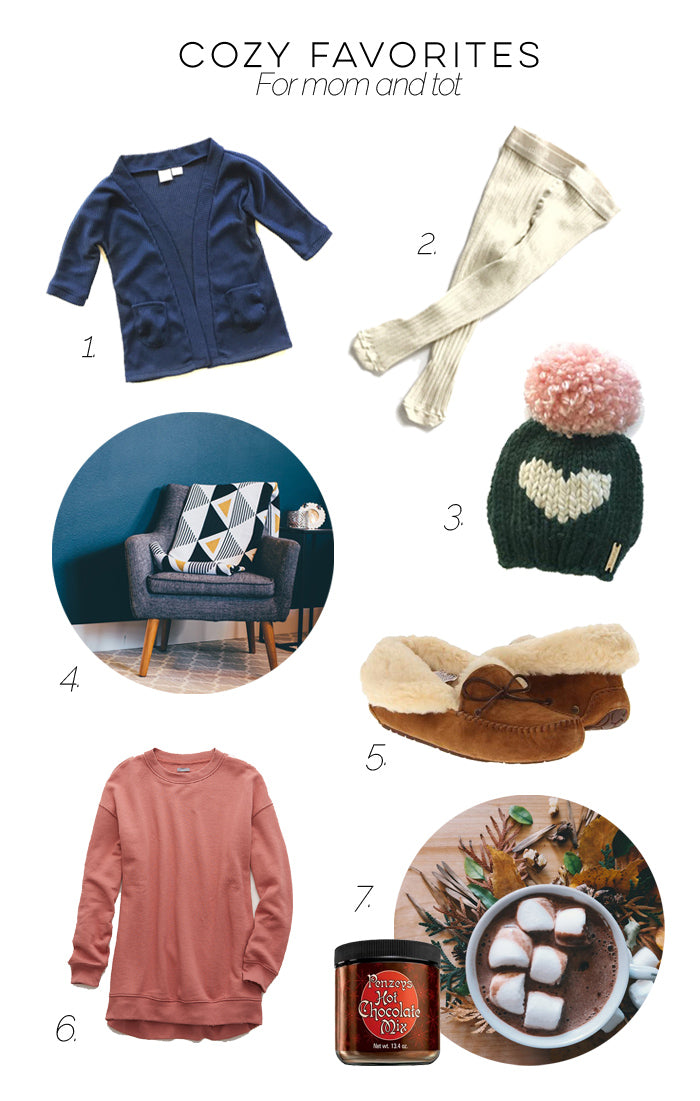 Cozy Favorites for Mom and Tot
As a lifelong Minnesotan I've always known 4 seasons, and the transition to fall and winter is definitely my favorite. The crispness in the air, the delicious smells that start coming from the kitchen, and lest we forget fall sweaters, and blankets, and boots, oh my. Yes, the delicious slide into autumn is something I look forward to every year, and now that I have two little mini-me sweethearts that I get to bring with me as I delve into all things fall I'm finding that I love these cooler seasons even more. I've narrowed down my top 7 favorite stay warm items and I'm sharing them here with you!

1. Slouchy Cardi - Bumbelou - When these were first announced I *knew* they were going to become one of my girls fall staples… and how right I was. The perfect weight, just the right amount of slouch, they're ideal for tossing on over jeans and a tee or our favorite Bumbelou dress.
2. Collegien Ribbed Tights - I didn't know I was a tight snob until I felt the luxurious Collegien Ribbed Tights I ordered from Bumbelou last fall. They're a beautiful thick weight without being bulky so they're perfect for when the weather cools down. We own a couple of pairs but I highly suggest the Paperwhite color as the perfect hue to coordinate with all your fall favorite outfits.
3. Giant Pom Beanie - Nickichicki X Bumbelou - Full disclosure - I've been a Nickichicki fan for a long time now and I have quite the collection of her hats. I love the oversized poms and cannot tell you how many compliments we get when we're out and and about in this statement knitwear. If you're looking to take a step outside the typical toddler winter hat arena I strongly suggest you pick up something from this fantastic collaboration collection.
4. Seek and Swoon Throws - There's no way I can possibly do justice to these beautiful throws, so I'm going to have to just go ahead and encourage you to get one for yourself. These are made in the USA from recycled cotton yarn and they are SO COZY. I'm a MAJOR blanket lover but since starting my Seek and Swoon collection they're the only ones I ever reach for! (Bonus, they have mama + mini sizes!)
5. UGG Alena Slippers - Having lived in Minnesota for over 30 years, I know cold. Bitter cold. So it also means I know my fair share about staying warm. These Ugg slippers are my absolute favorites for both comfort and keeping my tootsies warm, especially because I typically don't wear socks (it's weird, I know, especially when it's below zero outside).

6. Aerie Sweatshirt Cozy. Oversized. Heaven. That's basically how I would describe the Aerie sweatshirts I *live* in. Truly, more days of the week than not you can find me in one of these. I love that they're a sweatshirt that provides an oversized look without being shapeless or sloppy. Throw a puffy vest on over it, a pair of your favorite skinny jeans, some tennis shoes and you're ready to roll.

7. Penzey's Hot Chocolate Mix - I knew Penzey's had great spices but when I saw they had this hot chocolate mix I figured we'd give it a try. As soon as it arrived we whipped up a couple mugs for the kiddos and it. was. divine. Rich + creamy and I love that the ingredients list is short, sweet, and easy to read. Perfect for those cool fall mornings or an after-school snack.
I'm so glad I got to share some of my favorite stay warm essentials for both mamas + minis here! May your fall be filled with hugs, kisses, and all things warm and snuggly!
XO,
A