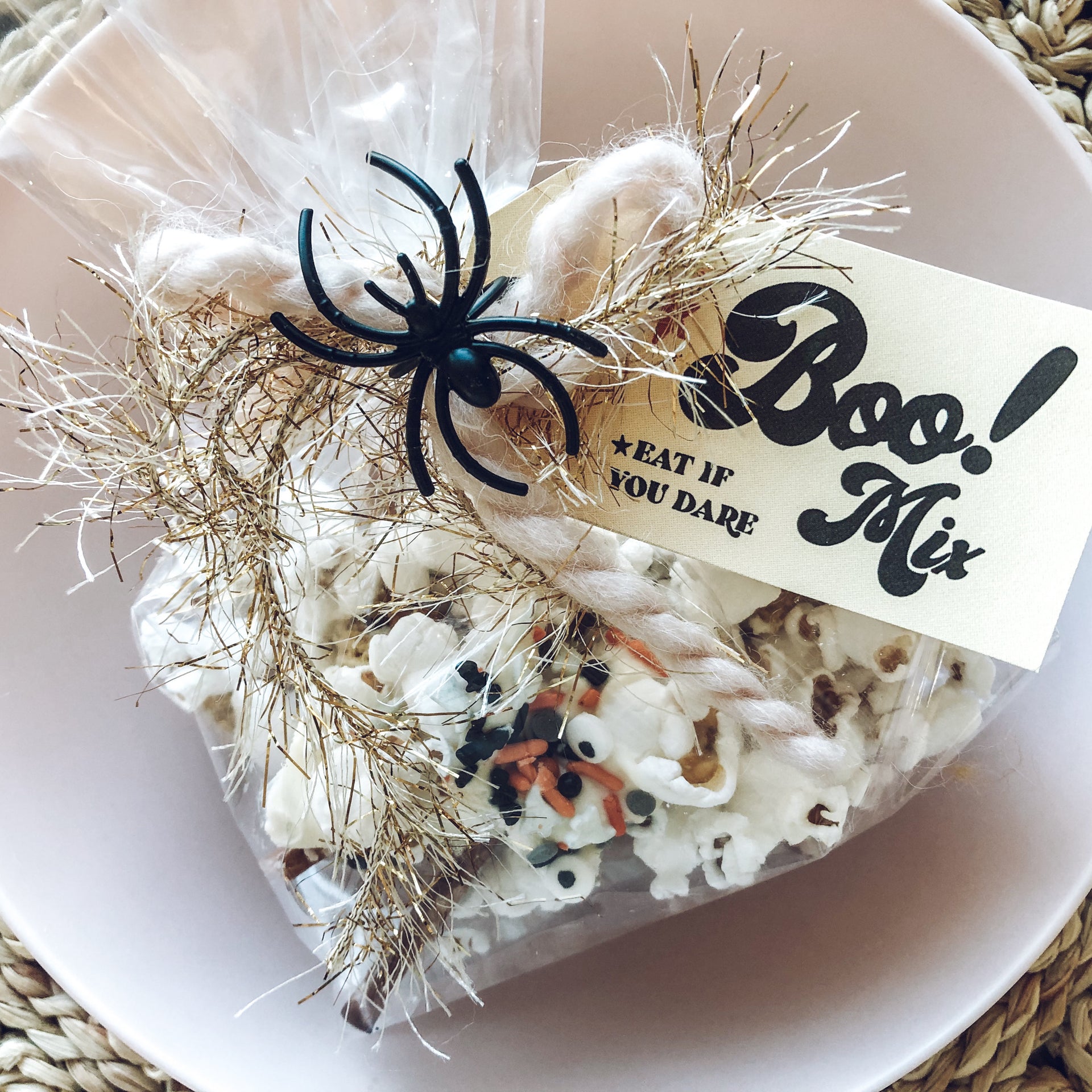 Ghost popcorn
Confession: Halloween has never been my favorite. I don't even know why, I've just never really gotten that into it, ya know? But if there were ever a year to "Fake  It 'Til You Make It", 2020 would be the one. 


My kids have a few days off from school this week and I'm planning some fun Halloween inspired crafts and activities to keep us busy, but I just couldn't save this popcorn recipe until then! We've made it twice in the last week already, and I just picked up ingredients to make more! I have full intentions to share some with our friends and neighbors, I've just got to stop my family from eating it all first!
 You can whip this up in less than 5 minutes! All you need is:
-Popcorn (I used Old Dutch/already popped)
-Almond bark
-Pretzel sticks
-Chex cereal
-Halloween themed sprinkles 
How to:
On a large tray or baking pan lined with wax paper, spread out a layer of the pretzels + Chex cereal.
Next, melt your almond bark according to the package directions. Almond bark can scorch quickly, so watch it carefully.
Pour half of the melted almond bark over the pretzels + Chex combo.
Next, pour a hearty layer of popcorn on top, and drizzle the remaining melted almond bark on top of it all.


This will be your kids' favorite part: Top with SPRINKLES! I have seen Halloween sprinkles at Target, Home Goods, Michaels, and my local grocery store. We also picked up some of those little eyeball ones which really makes the name for this treat! 


Let it sit until the almond bark has hardened, then you can gently break it up into smaller bits to enjoy or package up to share! You can find the perfect "Boo Mix" printable tags here. 
Cheers to making magic for our little ones!
xo,
Amy