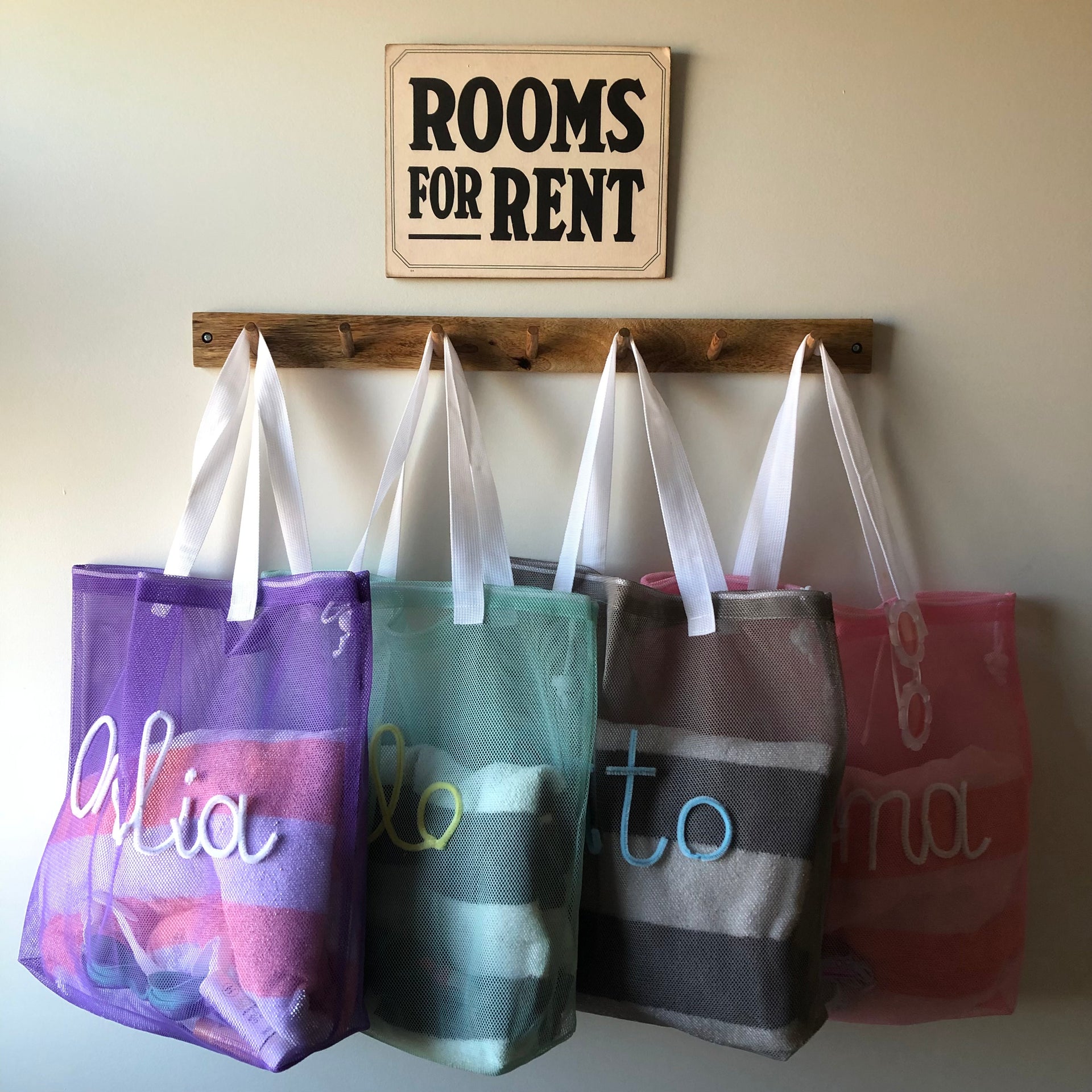 Grab and Go Swim Bags
If you recall our Summer Fun Basket, at the beginning of summer I set my kids up with all sorts of fun items for summer, including new towels, googles, and swim suits. But we spent our first few weeks of summer scrambling to find those items every time we needed them. It was just a bunch of unnecessary chaos in the midst of trying to sun screen four kids and get us out the door on time for swim lessons, and I was tired of it. I decided I needed to create a "hack" to streamline this process. And now that I have this system in place, I can't believe I lived without it for so long!
I found these beach bags on Amazon, which came in a 4 pack-perfect for my crew of 4! I then used this cute name idea I had seen from The Mama Notes, to create your kids' name out of pipe cleaner and hot glue on to the bag. Just assigning each of my kids a colored bag would have sufficed, but I enjoy creating and crafting, so I went the extra step. 
Next, I filled each bag with a beach towel, goggles, sunscreen, and ear plugs. Add in whatever items suit your needs. I added sunscreen to Orelia's bag, as she sometimes goes swimming at a friend's house, sans the rest of our crew. For the rest of the sunscreen, I keep it all together in a separate bag (It's expensive and I don't want it to accidently fall out!) I have this hook rack hanging in my laundry room, so I designated it as the home for these bags. They hang here, ready to grab and go, and it has saved us so much hassle this summer.
After a trip to the lake, pool, or swimming lessons, I wash the towels, replenish the bags, and hang them right back here so they're ready for the next time!
Do you have a great summer mom hack? I'm always looking for ways to make things run more smoothly!
xo,
Amy