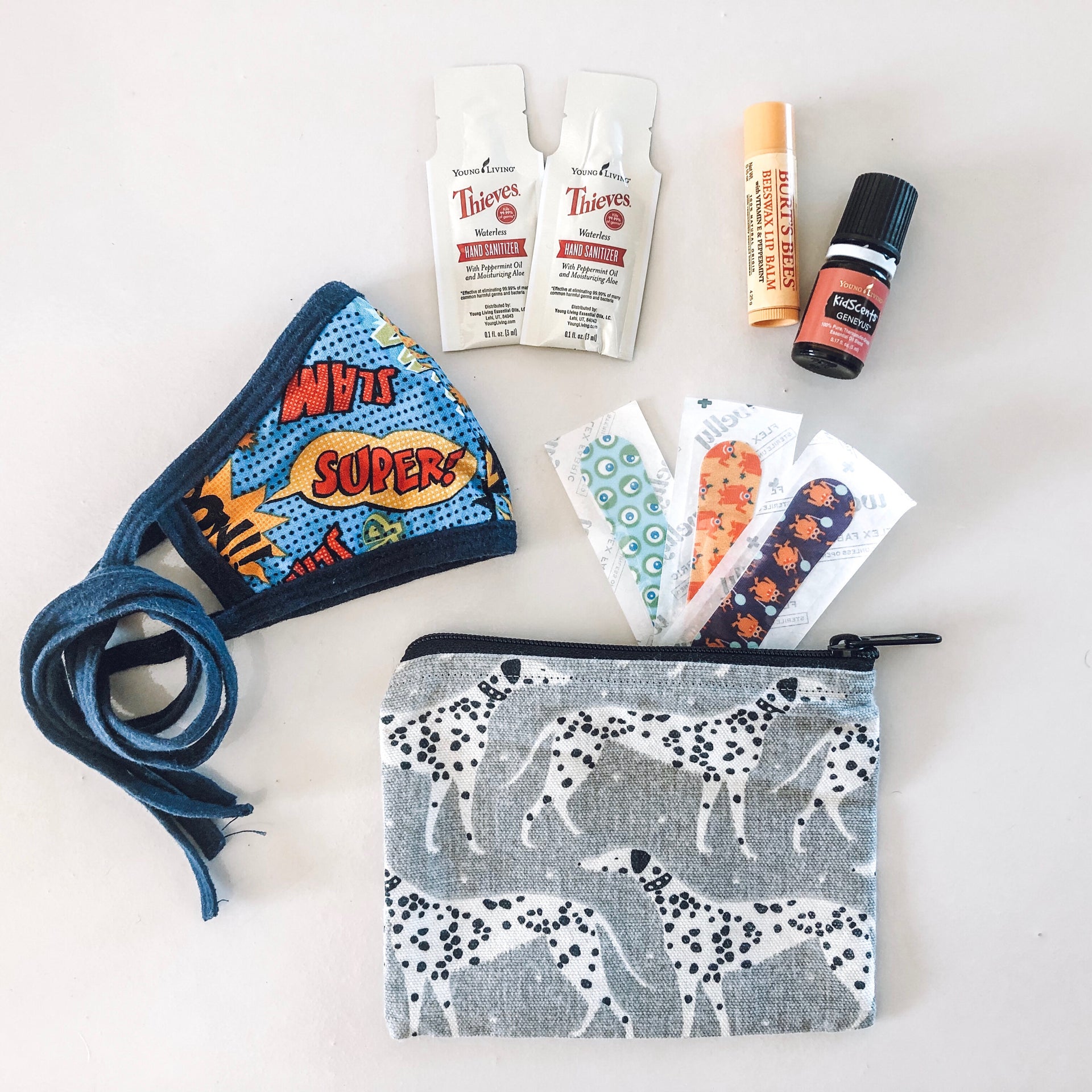 How To Make a Backpack First Aid Kit
Making backpack first aid kits is something I have done for the last few years. When my oldest started school she was soooo reserved and had a lot of anxiety. She hated attention being drawn to her and would not let her teachers know when she needed help. That broke my mama heart, knowing that I wasn't there with her to step in and help her. So we created a little first aid kit that she could keep in her backpack at all times, and have the tools to help herself if/when needed. It helped eased her mind (and mine!) and proved to be very useful for her! I now make one for each of my kids. Here's a look into what we put in them:
For my girls, their kits include:
-Bandaids (this is the single most used item! We replenish often throughout the school year) 
-Hand sanitizer 
-Chapstick (another frequently used item!)
-Hair ties and clips
-Essential oil rollers to support emotions and concentration
-Mask (My kids will be doing a hybrid home + school model this fall. They are required to wear a mask to school, and I will be sending an extra in their kit just in case!)
-Cute pouch (a pencil pouch or makeup bag work perfectly!)
Not pictured: My preschooler also keeps an extra change of clothes in hers. We have never needed it, but our school asks us to send one just in case. Accidents, art projects and spills happen!
Moving on to the boys!
-Bandaids 
-Hand sanitizer 
-Chapstick 
-Essential oil rollers to support concentration
-Extra Mask
-Cute pouch 
We will often add in lotion during the winter months, especially this year with all the extra hand washing! We also add in cough drops and kleenex when needed.
One thing to note: we do let our teachers know that the kids have these in their backpacks. It has always been well received by them and they appreciate sending them to their locker to grab something versus taking a trip down to the nurses office. 
If your kiddos aren't going to be in a school setting, these are still great and easily adaptable to toss in the car or your purse! You can never be too prepared!
xo,
Amy