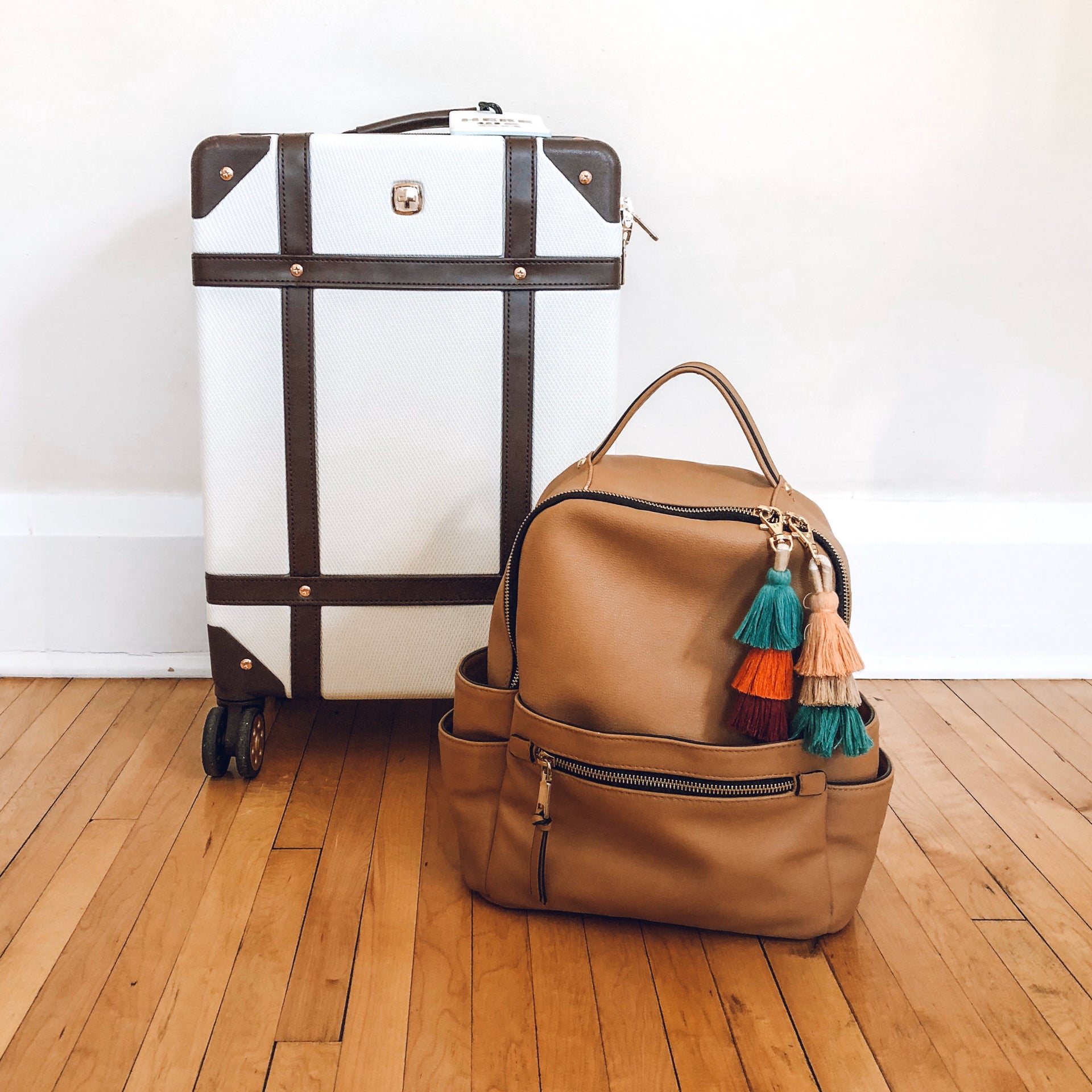 Leaving On A Jet Plane
When I was brainstorming topics to blog about for the next few weeks, I got way too excited when I had the idea to share about traveling with kids! Especially with Spring Break right around the corner, this is the perfect time to stash some tricks up your sleeve! Traveling with kids doesn't have to be hard OR stressful! With the right preparations, it can actually go quite smoothly! Over the next few weeks, I'm going to address different areas of traveling on the blog here, including smooth sailing through security, what to pack in carry-ons, day of travel tips, keeping kids entertained in flight, and I'll even adapt these ideas for road trips! Let's get started!
My family consists of myself, my husband, and our 4 children. That's a lot of people and lot of stuff to consider when we plan a trip. We've done it enough times though to have dialed it in to what works best for us. 
TIP #1: Book an Air bnb
This has been a game changer for us. We have stayed in hotels before, and that experience can be fun too, but for nearly the same price, we can rent an entire house which gives us more bedrooms and more space to spread out.This is especially helpful when putting the kids to bed and still having a space to hang out with my husband without distributing their slumber. And having a kitchen to prepare meals in is a huge life saver for us.
TIP #2: Seek out onsite laundry
Whether you book an air bnb or stay at a hotel, make sure laundry facilities are onsite and available to you. The single most sanity saving tip I have uncovered is having the ability to do laundry while away. Why? Because it allows me to only pack HALF of what we need! Say we are going to be gone for a week... If I know I can wash clothes, I will only pack 3 outfits (plus what we wear on the plane) and 2 pair of pajamas per person. I can pack our family of 6 in two full size suitcases this way! And now that airlines charge for extra luggage, this ensures we have fewer costs along the way. (Added bonus: you don't have to travel home with soggy swimsuits or that outfit your baby had a blow out in!)
TIP #3: Packing Cubes are life changing
I don't know how or why they are so magical, but just trust me, they are. I have a different colored set for each person in our family, so not only does it save us space, but it helps us all find what we're looking for upon arriving! Everyone can grab their color cubes and stash them in the dresser drawers. You can find packing cubes pretty readily available at Target and Amazon. I just bought the cheapest ones and they've worked great for us! If you want to be even more organized, you can separate the cubes into clothing, pajamas, socks/underwear, swimwear, shoes, etc. You could also pack them for Day 1, Day 2, etc. They really are so helpful!
TIP #4: Cross-Pack suitcases
One of my biggest fears when traveling is that our luggage is going to get lost in route, and we'll all have to spend the week naked or wearing dirty clothes! Nobody wants to see either scenario! If you are flying with a direct flight, chances are pretty good that your belongings will be waiting for you when you make it down to baggage claim. But things get a little risky when you have connecting flights. Since I'm already packing my family in two suitcases, I sometimes will pack a little for each family member in each suitcase. That way, in the off chance a piece of luggage is delayed, we at least have some options and can make do for a bit. I'll share in another post how I pack our carry-ons, but here's an extra little tip: If you have room, pack a change of clothes and a swimsuit (if applicable) if each person's carry on. It just gives me extra piece of mind. I know with that plus the clothes on our backs, we'll be just fine. And, extra clothes always seem to come in handy when your kid spills their juice on themselves, or your baby spits up all over you. 
TIP #5: Buy what you can at your destination
It's hard not to want to pack everything plus the kitchen sink. I get it. I've been there! Most times the size of my suitcase will tell me what needs to be left behind. When that happens, I take a deep breath, and google the closest Target to our destination. We have purchased diapers, snacks, toiletries...you get the idea...upon arriving. It's so easy to shop ahead these days that it's really no big deal to pick up anything you might need. If you are staying with family, you could even send them a list and ask them to pick up those things for you before you arrive. If that seems like a hassle, you may even be able to ship a box ahead of time, as long as you have someone trust worthy to receive it! (Air bnb hosts are usually more than happy to do this!)
I could go on and on about traveling with kids, but i'll wrap it up for today. But I promise you I have lots more ideas and I will share them over the next several blog posts with you! In the meantime, if you have a specific question or scenario, you can always leave it here in the comments or ask me in our Friends of Bumbelou Facebook group!
Happy travels to you!
xo,
Amy