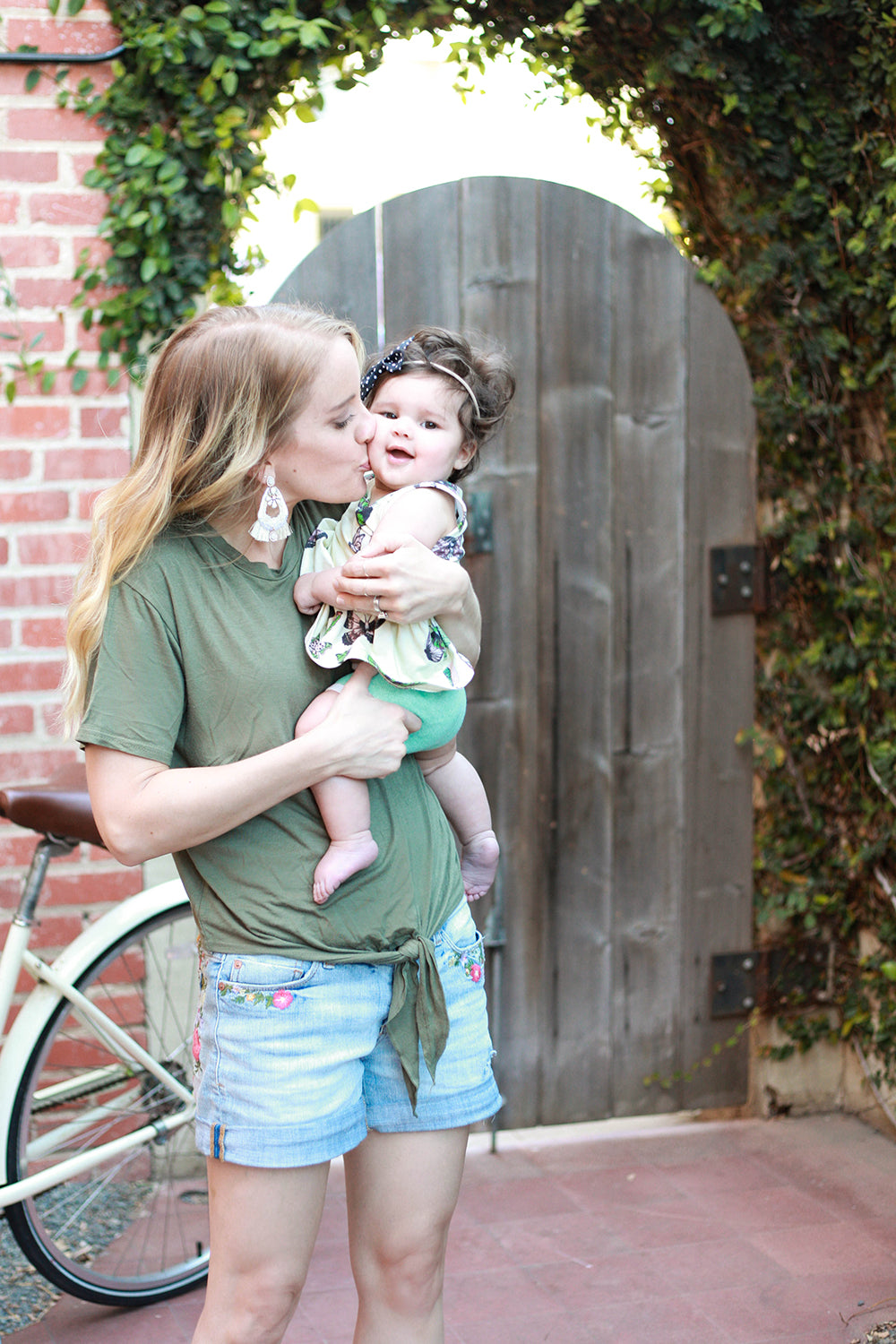 Spring Outfits for Little and Me with Jen from Paisley + Sparrow
Hi everyone! I'm Jen from Paisley + Sparrow! I'm a mom to 2 kids under 2, a wife to a hunky Indian guy and we all live in Minneapolis with our dog Chloe! My goal is to bring joy to your life, style and home. I share tips and tricks to finding and loving your personal style for you and your home over on my blog and try my best to share encouragement to women of all walks of life - especially to you mamas! Let's face it. Being a mom can be a hard job. You have to make about 2,000 decisions before noon and most of those aren't even for yourself. (The one exception is how much coffee to drink that morning.) There's no doubt in my mind that your little one's closet is full of the most adorable outfits ever. (Who can pass up a cute grandpa sweater for your little man or ruffled bloomers for your little girl?) But how often do you leave the house for a playdate, church or even Target and realize your kid is looking more fly than you?! I'm totally guilty of that and just pray that everyone my son waves to at Target will notice how adorable his little jeans and button up is and not realize I'm actually still wearing my pajama top with a sweatshirt over it and leggings. I'm here to help you (AND me if I'm being honest). I love the days when I'm coordinating with my kids so here are 3 outfit ideas that are simple yet adorable!
First up, a park outfit!
Park wear should be simple and easy. I absolutely love mustard yellow and it's a perfect accent color to your basic black and white ensemble. (You never know if you're going to meet your new mom bff at the park so you might as well look a little cute!) 
For your little one: Bumbelou's peplum tank is perfectly matched with their retro shorts. Some fun moccassins and cute little bow completes the outfit (or keeps your kids hair out of their face like my daughter!).
For you: Black denim shorts (I personally own these and LOVE them! They're perfect for sitting in the sand!) and a white top (There's also a mustard yellow option if you want to get totally matchy matchy!) is an ideal starting place for a summer outfit. Tie a mustard yellow bandana in your hair or better yet, around your neck (like below) and you'll instantly get some compliments from fellow moms who appreciate your style.
Don't think you can pull of a bandana? (First of all, yes you can.) Add on a stack of gold necklaces or fun gold earrings to accent your outfit! Top it of with a pair of comfy Birkenstocks and you're good to go!
Sunday Best!
Church or Sunday brunch can be so hard, am I right?! Not only do you need to look good yourself but we want our littles need to look put together. These are the moments to keep it simple. For both mom and little, put on a dress!
For your little one: The Pirouette dress is adorable and perfect for those times you need to dress it up a bit. Pair it with a colored bow and shoes that strap on (nobody needs a skinned knee when you're looking your best).
For you: The Leith dress is great for summer and is the most flattering dress for any body type. There's rouching in all the right places and isn't too short for bending over to pick up a kid or two. In summer I love to add on a scarf of some sort not only for looks but also to keep warm in air conditioned buildings! If it's far too warm for a scarf add a necklace or two and a pair of earrings.
And lastly, a vacation outfit.
For your little one: I loved Penelope's little peplum tank and retro shorts from Bumbelou and Roy had on a coordinating tank as well! I'm a big fan of brothers and sisters coordinating outfits!
For you: I wore this simple outfit in California while we were on a family vacation! The best thing about these shorts and my top is they're super versatile. I wore the top with jeans as well as shorts and also layered under a denim jacket. I wore the shorts with 3 different tops (a simple white tank, this "be a nice human" tee and the green tee in the pic). Don't be afraid to try shorts with some embroidery! I really love them! 
I'm also sharing one more outfit over on my blog featuring Bumbelou's Pineapple Peplum and Bloomer Set. Be sure to go check it out! Be sure to stop over on Instagram and say hi as well! I love making new friends!
xoxo, Jen